We have a few birthdays in my family in February and March, and this cake was such a hit it was made for 2 separate celebrations. My sister found the recipe for use with her thermomix, and I have adapted it to be used with less sugar, and with a food processor and mix master. I hope you like it as much as we did!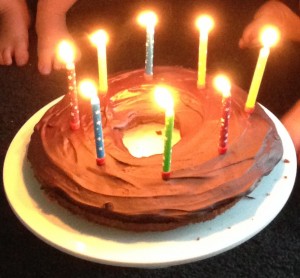 Ingredients
420 g tin kidney beans, drained and rinsed well
1 tablespoon water
1 vanilla bean pod (seeds scraped)
1 cup cocoa powder
1 teaspoon bicarbonate of soda
125 g butter
5 eggs
3/4 cup sugar
Method
Drain and wash the beans well
In a food processor, puree the beans, water, I egg and vanilla until smooth. Set aside.
Cream the butter and sugar
Add the remaining eggs and beat
Add bean mixture and beat
Add the cocoa powder, bicarb soda and beat.
Pour batter into greased ring tin pan and bake in a moderate oven for 30 minutes or until a toothpick inserted in the middle comes out clean.  If you use a round tin, it will take a few minutes longer to bake.
This gluten free, nut free, and high protein cake is wonderfully moist and works with most canned beans.
If you want it to be diary free, you could use oil instead of butter, but I think butter is better!!