I made up this recipe myself – bit proud! These coconana pancakes are delicious as a breakfast or snack. You can make them up ahead of time and eat cold as well. They will keep for a couple of days in the fridge.
They are gluten free, dairy free, egg free, and nut free. They are also paleo and vegan.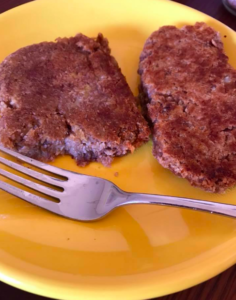 Ingredients:
2 bananas
1 cup desiccated coconut
1-2 tablespoons of cacao powder
Olive oil (for frying) – you could use butter if you are not dairy free/vegan

Method:

Mash bananas, stir through coconut and cacao. (If it's a little dry you can add a splash of you milk of choice. It shouldn't be too wet though. Similar consistency to mashed banana not pancake mix).
Divide into pancake sized potions. Fry on medium heat.
This serves 2 adults for breakfast (depending on how big your bananas are)
Please share with any of your friends who are any of the "free" above.