This is a wheat free and dairy free (if you choose to) breakfast. It is important to have a break from wheat and dairy every now and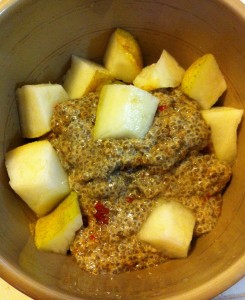 then as they are difficult to digest as well and are often linked to intolerances and allergies. Breakfast is usually dominated by wheat and dairy, so it is nice to have a delicious option that doesn't include both.
I have adapted this recipe from a fantastic website Vegie Head. There are so many delicious vegetarian recipes on this website. I highly recommend it! A link to the original recipe can be found here. Scroll half way down to find the Super Food Parfait. I have substituted some of the less well known ingredients so it is easier to make. You can get most of it from the supermarket.
This dish needs to be made at least 8 hours before serving. I make it before I go to bed, for breakfast. The chia seeds puff up and become quite slippery in texture. It is great to serve this dish with some crunchy fruit to have a contrast in mouth feel.
Ingredients:
1/2 cup chia seeds (great source of vegetarian omega 3 fatty acids)
1 tin coconut milk (approx 400ml)
1 cup rice/almond milk OR dairy if you tolerate it well
2 tbsp goji berries (very high in antioxidants). You could use sultanas or other dried fruit instead, however goji berries are much healthier
2 tbsp other fruit such as cherries, sultanas, blueberries, strawberries, mango, or whatever you like
1 tsp maca powder (a high protein powder from health food store. Gives a lovely butterscotch flavour)
1 tbsp honey or brown sugar
1/2 tsp ground cinnamon
1/2 vanilla bean pod, scraped (please use fresh vanilla pods instead of vanilla essence, which is full of chemicals)
1 cup fresh crunchy fruit such as an apple, pear, strawberries, or passionfruit for serving
Mix all ingredients together in a large bowl, taking care to stir thoroughly so the chia seeds dont clump together.
Cover and refrigerate overnight.
Stir through the chopped crunchy fruit when you are ready to eat it.
It can be served for breakfast or dessert, and is guilt free eating! Delicious and Healthy!