So… yesterday was my due date.
Yes, that is right. My due date. But I am not pregnant…
In February this year, I had a miscarriage. Equally the most devastating and distressing day of my life… Equal to when I found out 5 days earlier at my 10-week ultrasound, that there was no heartbeat.
Those who are closest to me know about it. And I have told people who have asked innocent questions of me:
"Your son is now 3, isn't it time to have another baby?"
"When are you going to have another baby?"
"Are you guys going to have another one?"
My answer: "I would love to have another one, but I am repairing myself physically and mentally from a miscarriage earlier this year".
When you are trying for a baby and you do the test and see those two blue lines… in that moment you become a mother. Your mind changes. Your thoughts change. You are no longer just you, walking around in your body, but you are now growing another person. Your energy shifts from in your head, to in your womb and your heart. And despite the debilitating nausea and general feelings of rottenness which come with a first trimester of pregnancy, you are also excited about creating a new life, adding to your little family.
And then it all changes…
And I went along to the 10-week ultrasound, a little bit nervous, but excited about seeing this little person for the first time.
After all, I had done this before. I had successfully grown another person; an awesome little person; a perfect little person. And I was looking forward to seeing his brother or sister on the ultrasound monitor.
I see the outline of a baby.
Oh how I wish I had not seen that ultrasound image.
Because there, floating in my womb, was a little baby. A little baby with no heat beat. The ultrasound technician put her hand on my leg and I didn't need her to say it, but she did.
"I'm sorry"
It is a strange concept to feel sad for something that was never born. But I do.
One in 5 pregnancies end in miscarriage, yet we don't talk about it freely. People often lament this fact. I tell you why we don't – because it is too painful! I am trying to change this with my story. But, still, it has taken me 7 months to be able to write this down. And even now – do you know how scared I am to press PUBLISH on my blog? !! That total strangers will read my story… but I feel compelled to do it. It is part of my personality. It is in my nature to share my many thoughts and feelings with those who will listen.
So, I have picked myself up, and dusted myself off. And true to my profession, I have asked myself "why did this happen to me?" That is the eternal question of a naturopath regarding her patients. "Why are you unwell?"
I have investigated, and read, and researched, and gone to seminars. I have discovered that I have a variation in the MTHFR gene (a gene which controls the use of folate in the body. And we all know how essential folate is for a growing foetus). You can read more about it in my post on MTHFR.
And so I have become my own patient. I have changed my diet, and lifestyle, as well as my husband's. I am repairing myself and am now preparing myself to try again. I also planted some daffodils which would spring up around the time of my due date.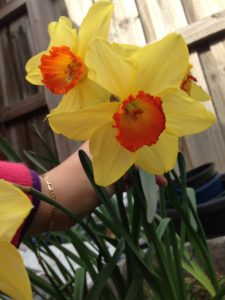 And I hope that all this hard work will be successful. Only time will tell that. I am very lucky in that I have already had a successful pregnancy and a beautiful little boy to call my son.
I would like to say to all women who have had a miscarriage as their first pregnancy…
"I feel you"
I would like to say to all women who have had any miscarriage…
"I feel you"
and I would like to say to all women who have had multiple miscarriages…
"I feel you"
I feel you in your pain, your longing, and your strength. And I admire your ability to pick yourself up and keep trying.
I have joined a club that I didn't ever want to become a member of. I wish there was no club to begin with. But now that I have joined, and I cant unjoin, I am grateful that this club has made me a better naturopath, a better mother, and a better person.
And hopefully there will be some happy news to share in the future.