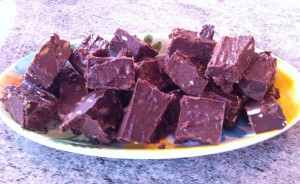 The Christmas season is starting very soon, and when catching up with friends and family, I always like to bring a plate to share.
This chocolate and nut butter fudge is not only delicious, and very decadent, but it is also really healthy, with no added sugar, and no butter! Plus it is super quick to make.
Ingredients:
1 cup of coconut oil
1 cup peanut butter (or another nut butter of your choice – almond is also good)
1 cup of dates (pitted)
2 cups of cocoa (or cacao if you prefer)
1/4 cup of crushed nuts (I used slivered almonds)
Method:
soak dates in hot water for 20 minutes until they are soft and sticky
heat coconut oil on low temperature until melted
put all ingredients (apart from the nuts) into the food processor, and process until combined
line a baking tin with baking paper and spread the mixture into it
refrigerate for an hour
cut into bite sized pieces and enjoy!
I always modify recipes, so I have done this recipe a few different ways. I have added shredded coconut to it, which is also delicious, I have stirred through sultanas as well, which gives it a bit more sweetness. Let me know any modifications you make to it – it is always good to try new ways of doing things